Labour market remained tight in 2016.
Employment is expected to marginally decline and the unemployment rate to grow in 2017.
In 2016, the labour force participation rate, the share of the labour force in the working-age population, increased by 1 percentage point to 70.4%. Within a year, 8,300 additional people entered the labour market, which mainly resulted from the decrease in the number of inactive persons. The number of inactive decreased due to an increase in the retirement age and the rearrangement of the social benefits system regarding people with disabilities; these people are now entitled to certain benefits only if they work or actively look for work.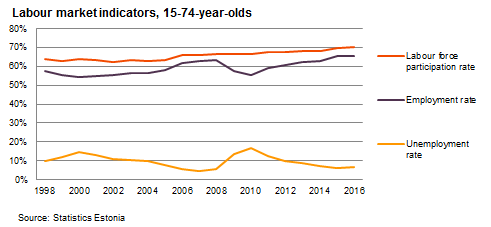 Situation in the labour market did not change much in the fourth quarter compared to one year before. The number of inactive persons decreased by 0.5%, and the number of employed declined by 0.2%. Employment declined in the construction and public sector, while increased in other services. The unemployment rate increased by 0.2 percentage point to 6.6%. The number of unemployed amounted to 45,000 in the fourth quarter, while the number of vacancies exceeded 11,000 (latest data from the 3rd quarter).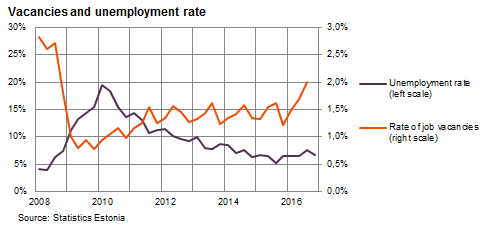 At the end of January 2017, there were over 6,000 people with reduced working ability looking for a job through the Estonian Unemployment Insurance Fund. As a result of the reform, the Fund expects the number of registered unemployed to increase by one fourth this year.
In 2017, employment is expected to marginally decline. Surging labour costs motivate organisations to increase efficiency of their production processes. Employment in the public sector is expected to decrease as a result of the administrative reform where smaller municipalities merge into bigger administrative units. According to the Ministry of Finance, the number of local authorities is forecasted to drop from 213 to 75 by local government elections due in October. In addition to this, the government has decided to remove one administrative management level – all county government activities shall be terminated on 1 January 2018 and the tasks transferred to either local authorities or ministries. At the same time, the EU presidency in the second half of this year will increase employment somewhat in the ministries and conference/tourism services.