•

The average gross wage increased by only 1.0%, over the year, in the second quarter. 
• Swedbank expects wages to grow by 2.2% this year. 
Less work means lower pay
Gross wage growth decelerated from 4.8% in the first quarter to 1.0% in the second quarter. Without the government's wage support programme, the average wage would have been below last year's level. This is in line with our expectations, we expected the average gross wage to grow by 0.8% in Q2. The amount of hours worked declined by 5.1%, on average, in the second quarter, and a staggering 23.6% in the hotels and restaurants segment.
The average wage level decreased in half of the sectors, but most notably in areas worst hit by the crisis – in trade, tourism, and entertainment, where average wage level was already well below the average. Wage growth was still strong in IT, finance, and energy sectors, where average monthly gross wage exceeds 2000 EUR. In the construction and manufacturing industry, wages were 1-3% lower compared to last year.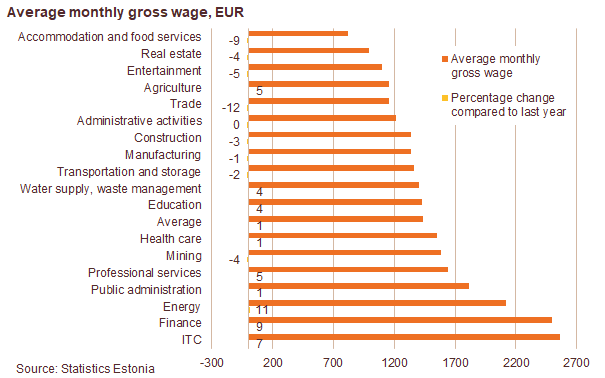 Difficult economic environment, shaky sentiment and a higher unemployment rate curb wage growth. Swedbank expects the average gross wage to increase by only 2.2% this year and 3.3% next year.