In 2015, economic growth amounted to 1.1% in Estonia as the volumes of stocks and exports decreased.
We expect GDP growth to accelerate to 2.3% in 2016 on the back of higher exports and investments.
In 2015, economic growth reached 1.1% in Estonia. Estonia registered one of the lowest GDP growth rates in the EU. By sectors, GDP was negatively influenced by a decrease in the value added in transportation, construction, and manufacturing.
Transportation has been hit by lower trade volumes with Russia. The value added of construction decreased mainly due to a decrease in the construction of structures and repair of buildings. Manufacturing was affected by a decline in export demand and output prices. An increase in the value added of agriculture, professional activities, and domestic trade had a positive contribution to GDP growth.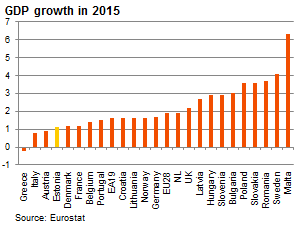 The contribution of net exports was positive because export volumes fell less than import volumes. Domestic demand fell, mostly because of smaller inventories. Private and public consumption grew. Households' expenditures on food, recreation and transport supported private consumption. Investment volumes fell due to lower investment volumes of enterprises in equipment and transport. Public investment volumes increased.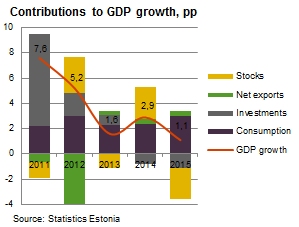 GDP growth in Estonia is expected to accelerate this year on the back of stronger export demand as economic activity in the European Union is expected to accelerate. Investment figures will be supported by higher external demand, low interest rates and higher volumes of public investment. Private consumption growth will slow as wage earners' real income growth will be lower.