Highlights of 2015
Öpik Building's construction work began
Mainor Ülemiste AS (MÜC) launched Öpik Building construction in the beginning of 2015 by construction company Merko LLC. In August 2015 the financing agreement with Nordea Bank was signed and iIn November 2015 MÜC bond issue was carried out succesfully in amount at 5 MEUR. Öpik tower is the largest office building with 15,000 leasable square meters.
Öpik Building cornerstone layed
On June 3rd the cornerstone of Öpik Building was layed. Named after Ernst Julius Öpik – the world-known Estonian rooted astrophysicist – and his grandson, ex British MP and London mayor candidate Lembit Öpik, participated at the event.
Fitnessclub MyFitness deal signed
2,300 square meter fitness club will be built next to the Öpik Building. MyFitness is leading fitness Club operator in the Baltics with 15 clubs located all over Estonia. MyFitness is important addition to services offering within Ülemiste City campus. The club will include gym, swimming pool, group training rooms and spinning facilities. The club will open in fall 2016 – just in time with opening of Öpik Building. The lease agreement was signed in July 2015 for 10 years with a five-year option.
Multinational engineering bureau Sweco office lease deal signed
Multinational engineering bureau Sweco signed deal to rent office space in Öpik Building. There will be 80 workplaces in the new office of total 1100 sq meters. "We decided in favour of Öpik Building because the environment and services that Ülemiste City offers, suit well with needs of growing company," said Sweco CEO Riho Koost.
Multifunctional event center Spacex opened in September
Spacex offers functinal conference and event facilities in renovated old factory building from 1930s. Offering up to 500 seating in conference setup and up to 800 in concert setup, Spacex catered 1400 conferences visitors, 1700 corporate event guests and 800 concert visitors in the first four months of its operation being for now the largest conference room in Ülemiste City.
Restaurant Mamo to open in Öpiku building in September 2016
Mamo is local organic meal chain of restaurants, which all are located near Tallinn's heart of business.Their fourth restaurant will open in Öpiku Building on the Ground Floor in September 2016 and will welcome everyone who prefers fresh and self-made options. There is both meat and vegetarian options here, so there is something for everyone. The food is easy-going and tasty.
Ülemiste City Key Figures at 31.12.2015
Rented space 151 085 square meters
Occupancy Rate 98,6 %
Financial Performance
4 Q 2015 – Net profit EUR 1 274 thousand
Net Sales and Net Profit
Net Sales amounted to EUR 988 th in 4h guarter, increase of 2.9 % compared to 3rd quarter of 2015.
Net Profit amounted to EUR 1 274 th, increase of 18.5% compared to 3rd quarter of 2015.
Expenses
Operating expenses increased from EUR 415 th (3q) to EUR 495 th in 4th quarter of 2015.
Interest expense on loans and issued bonds amounted to EUR 278 th, increase of 25% compared to 3rd quarter in 2015 (EUR 222 thousand).
Interest-bearing liabilities
Mainor Ülemiste AS interest-bearing liabilities amounted to EUR 27,659 thousand. The Company's three largest creditors at the end of the period were Nordea Bank AB, LHV Pank AS, SEB Pank AS.
At the end of the reporting period, Mainor Ülemiste had EUR 17,800 thousand in untapped credit facilities.
Statement of the Management Board
The financial and other additional information published in the Interim Report October – December 2015 is true and complete. Consolidated financial statements give a true and fair view of the actual financial position, results of operations and cash flows of the group.
Consolidated financial statements in the report for the period October – December 2015 are not audited.
Consolidated Income Statement (according to IFRS)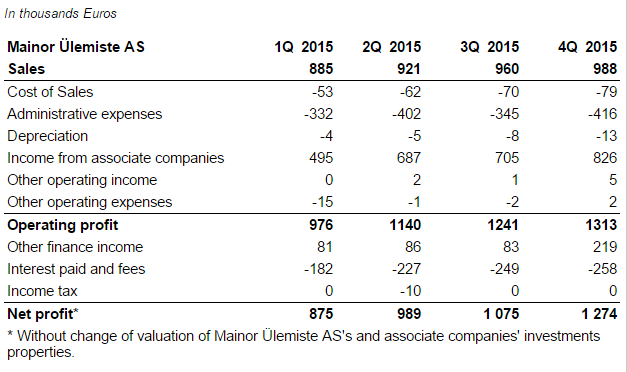 Consolidated Balance Sheet (according to IFRS)