The housing affordability index (HAI) shows that affordability increased in all Baltics in the second quarter; however, the state of affairs is more complex than the indicator suggests, and affordability picture is likely distorted.
Price increases for newly built apartments are likely underestimated, since data reflect agreements signed well before the second quarter rather than the current agreements that reflect surging prices.
The rapid recorded wage growth is somewhat inflated due to pandemic-induced structural shifts.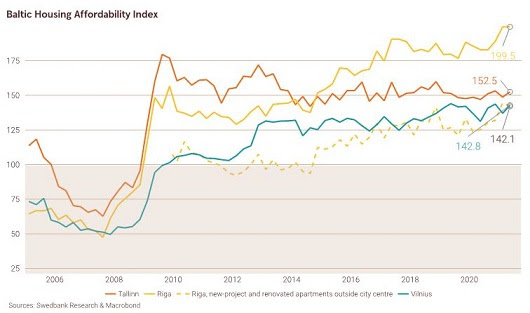 The average apartment price increase exceeded wage growth in Tallinn and Vilnius, hurting affordability. In Riga, rapid wage growth surpassed the accelerating price increase, supporting an improvement of the HAI index. A decrease in interest rates raised housing affordability in all Baltics.
Newly built apartments are purchased mostly with preliminary agreements, but they enter price statistics only when the building is finished. Therefore, statistics currently reflect the market situation well before the second quarter. One of the consequences of the post-pandemic economic recovery are rising construction costs, which are already pushing up prices of newly built apartments, reducing affordability. The rapid increase in prices for newly built apartments is likely to appear in statistics in the coming quarters and pose upwards pressure on the average price level.
Low interest rates are expected to support housing affordability in the Baltics in the near future. Apartment price growth is expected to outpace wage growth, reducing affordability in Tallinn and Vilnius. It is uncertain whether Riga will continue seeing wage growth exceed apartment price growth, given the rising pressures on construction costs and the likelihood that headline wage growth figures are inflated by Covid-19-related structural changes.