Labour market performed better than expected in the first quarter. The labour force participation rate, i.e., the proportion of persons of working-age who are either employed or unemployed, reached a record level of 70.2%, considering seasonal factors. Employment substantially increased and the unemployment rate decreased further.
The number of employed increased by 2.7%, over the year, mostly in trade, and in Tallinn, as several new shopping centres were opened. Increased economic activity lifts employment this year. Manufacturing and service companies expect higher sales and plan to increase the number of employees during next three months.
The unemployment rate decreased to 5.6% in the first quarter (6.5% in the first quarter of 2016). The registered unemployment rate of 5.0% was at the same level as one year ago. Strong demand for labour supressed the number of unemployed, even when the work ability reform moved large groups of people from inactivity into the unemployed. Nevertheless, in April, the number of registered unemployed grew again, so there is no clear trend.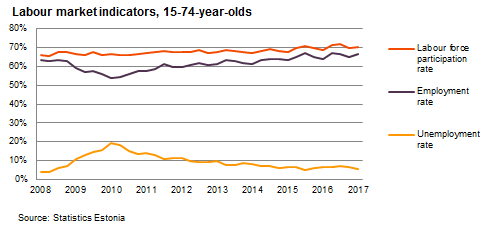 The number of inactive decreased by 5.7% as less people were away from the labour market due to studies, bad health or raising children. The participation rate is on the rise due to a tight labour market, the work ability reform motivating people with disabilities to look for a job, and, a smaller number of people aged 15-24.
First quarter data shows that the labour market remained tight. The amount of labour available in the market has decreased, while the rate of job vacancies has jumped. The rate of job vacancies, i.e. the share of job vacancies in the total number of jobs, was 1.7% in the fourth quarter of 2016. A shrinking working-age population reduces the amount of existing work force as well. The number of people aged 15-74 decreased by 6,000 only in 2016. Therefore, wage pressures are expected to persist.