• The unemployment rate declined, and the employment rate slightly increased in the first quarter.
• According to Swedbank's forecast, labour market should remain tight this year, so wage pressures persist.

Labour market remains tight
According to Statistics Estonia, labour market indicators improved further in the first quarter of 2019. The employment rate reached 67.5% and the unemployment rate dropped to 4.7%. The employment rate of Estonia is already one of the highest in the EU. In 2018, among the 20-64-year-olds, Estonia held the fourth position in the EU, below Sweden (82.6%), Czech R. (79.9%), and Germany (79.9%).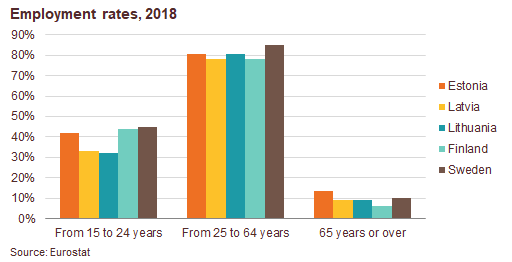 Without the work ability reform (that motivates people with a disability to look for a job), the unemployment rate would be even lower. Around one third of the unemployed who are officially registered have reduced work ability. Statistics Estonia's data on the number of the unemployed seems too small in the first quarter as the number of the officially registered employed exceeds that and all of the unemployed persons are not officially registered.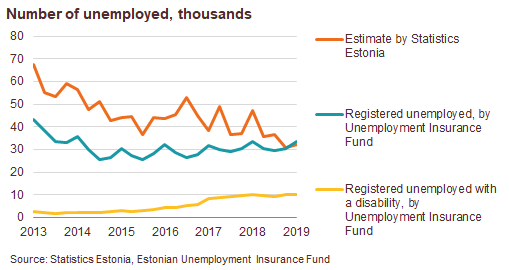 The Unemployment Insurance Fund's registry shows a surge in redundancies. According to the respective database, more than 1000 persons lost their jobs in the first quarter, including many bus drivers, miners, bankers, and seamstresses. The labour market remains tight, however, and many companies have already shown interest in hiring them. According to Statistics Estonia, there were over 10 000 vacancies in the labour market in the fourth quarter of 2018.
Employment increased more than expected
In the first quarter, the number of the employed persons grew by 11,000, over the year. Employment rose among the part-time workers and in the services' sector. The share of the part-time workers has climbed to 14%.
The shrinking of working-age population has paused in Estonia in 2018-2019 due to higher immigration. Among the 15-74-year-old immigrants, 42% were Estonian citizens, 11% were Russians and 9% were Ukrainians in 2018.
Wage pressure will persist
The number of job vacancies and the number of persons leaving on their own initiative remains high. The shortage of labour was the main factor restricting business for a fifth of manufacturing and a third of services' and construction companies in April 2019. Thus, wage pressure will persist. In 2019, we expect the employment rate to remain high and the unemployment rate to stay low. The average gross wage should grow by around 7% this year. Tax data shows that the growth of the average gross wage has not decelerated (+8.5%, over the year, in the first quarter).