Employment and unemployment both increased in Q4 of 2015.
In 2016, we expect unemployment rate to grow and employment to decline a bit.
Unemployment rate increased a bit to 6.4% in the last quarter of 2015 (6.2% in 2015 as a whole). The number of unemployed increased in the last quarter by 1,000 persons over a year to 44,000. Registered unemployment rate has exceeded previous year's level since August 2015 (the unemployment insurance fund's data). In January 2016, the number of registered unemployed exceeded previous year's level by 1,700 persons.
Unemployment rate in Estonia was still low compared to other countries in Europe, where unemployment rate ranged from 25% in Greece and 21% in Spain to below 5% in Germany (November 2015 data from Eurostat).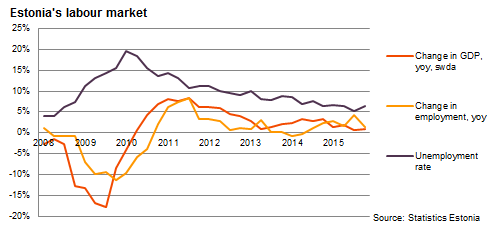 The annual growth of employment decelerated to 1.4% in Q4 (+2.6% in 2015 as a whole). The number of inactive declined compared to the previous year. The inactivity decreased the most among the retirees, partly because of a higher retirement age.
In 2016, employment is expected to fall a bit, especially in a few export-related sectors that have been struggling with low demand and/or output prices (mining/shale oil industry, transport, manufacturing). A state reform will reduce labour in the public sector. A reduction in the number of public workers and the reorganisation of the social benefits system of the disabled (forcing them to find a job) will lift the number of the unemployed, at least temporarily.