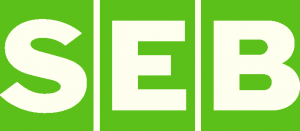 SEB's pan-Baltic survey of CFOs of large enterprises indicates an improved assessment of the business climate; however, Estonian enterprises remain more conservative in their forecasts than their neighbours to the south. The main concerns for large Estonian enterprises are low demand and mounting labour costs.
The most optimistic sentiment was reported by Lithuanian enterprises: 57 per cent of them rated the business conditions for their enterprises as favourable above average. In Latvia, this view is shared by 44 per cent of the CFOs. Although optimism has grown in Estonia compared to last year, there are fewer CFOs than in Latvia or Lithuania, just 36 per cent, rating the business climate as mostly favourable for their enterprises, whilst there are more of those who think that the situation with respect to the business environment is average.
Indrek Julge, Head of Corporate Banking at SEB: "Similarly to last year, approximately two-thirds of Estonian CFOs consider the overall financial situation of their enterprises positive. For enterprises focusing on the domestic market, the business climate is currently good; however, the situation for exporting enterprises is more complicated, as indicated by the second half of the survey results. Seven per cent of large enterprises concede that their financial situation is currently weak, whereas 30 per cent consider their situation satisfactory."
"For Estonian entrepreneurs, demand remains a key challenge, although its importance has dropped from 61 to 44 per cent compared to last year. Instead of 30 per cent last year, as many as 43 per cent consider the impact of labour costs important this year. Finding qualified staff is ever more difficult, straining enterprises' budgets and jeopardising their competitiveness. At the same time, a quarter of the CFOs are predicting growth in their employee numbers, which may be explained by their positive expectations for an improvement in the business climate," Julgeadded.
In their assessments of future cash flows, the CFOs of the largest enterprises are optimistic, with every other CFO predicting growth. Approximately two-thirds of the CFOs of Estonian enterprises – up significantly from last year – would prefer to invest on the local market as their main choice given a good financial situation. Investments on foreign markets and reducing liabilities follow, either at 15 per cent.
SEB conducted the survey of the CFOs of the largest enterprises in the Baltic States in September 2015. Respondents in the survey included 239 large enterprises from Estonia, Latvia and Lithuania.