Estonia's exports to Finland are the most diversified among the largest trade partners
Exported goods from Estonia have gained market share on the Finnish market
Finland is Estonia's largest export partner. Among the 10 largest trade partners, Estonia's exports of goods[1] to Finland are the most diversified. The recovery in import demand from Finland has given more export opportunities, and the number of enterprises exporting goods to Finland has increased during the last two years. Since 2015, the share of the Finnish market in total exports of goods from Estonia has increased; however, it is still lower than the level before 2011. Exported goods from Estonia lost some market share in Finland in 2017, but the longer time series show a more positive picture: Estonia has gradually gained market share in Finland since 2008. Despite the expected moderate slowdown in 2018-2019 of Finnish economic growth, its import demand should be relatively strong and Finland should remain among the largest contributors in foreign demand for Estonian exports, at least in the near future. At the same time, we have to consider that, because Finland has been able to limit the growth of its unit labour costs in recent years, Estonia is losing its price competitiveness against it. Despite Estonian prices of goods have been relatively flat compared to the Finnish average in the last 10 years (primarily due to the faster price growth of capital goods in Finland), Estonian general price level of the total economy has converged closer to the Finnish prices. Thus, investing more in product development and productive capital and improving corporate management, work organisation, and supply chains are needed for Estonia to halt its decline in competitiveness on the Finnish market.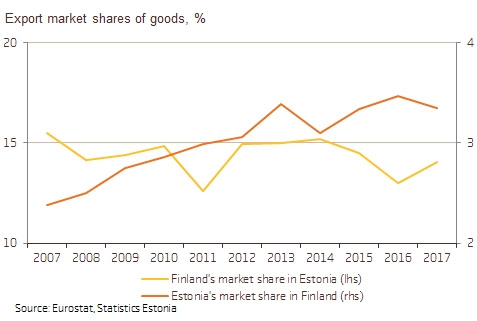 [1] The current analysis is of exports of goods. Although the share of goods in total exports to Finland (56% in 2017) is considerably lower than the average of all countries, the share has increased since 2015. Another reason for analysing exports of goods is the availability of more detailed data.
The Estonian Economy – Increasing Estonian exports' market share in Finland will be more challenging