Higher economic activity reflects in the developments in the labour market. In the third quarter, employment grew by 2.0%, the number of unemployed people decreased by a third, and the unemployment rate reached 5.2%. The employment rate, the share of the employed in the population aged 15–74, reached 68.3%, the highest level in 20 years. There is still some room for improvement in the employment rate in Estonia among the youth and the prime working age as compared to its neighbours, especially Sweden.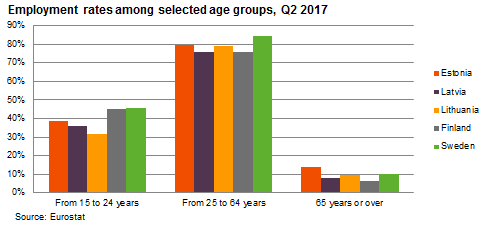 A substantial decrease in the number of unemployed people was a surprise, given that the data by the Estonian Unemployment Insurance Fund show a different trend – a constant increase in the number of unemployed people due to the work ability reform. The number of people with decreased working ability (people with a disability or state of health which prevents them from working under normal working conditions) that have turned to the Fund to find a job has doubled in a year and now 30% of the registered unemployed people have decreased working ability.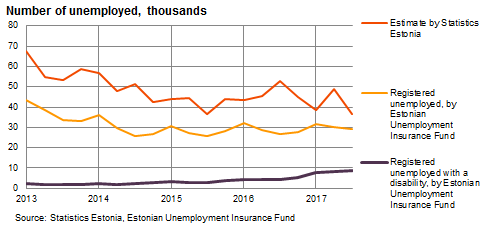 A shortage of labour was the most important factor restricting business for a third of manufacturing and service companies and for a half of construction companies in October. The rate of job vacancies, i.e., the share of job vacancies in the total number of jobs, increased to 2.1% in the second quarter. Therefore, wage pressures will persist. Tax data show that gross wage growth accelerated in the third quarter.
We expect employment to increase slightly next year as demand for labour grows. At the same time, the supply of labour is limited, so the number of job vacancies should grow. The unemployment rate is expected to increase due to the labour market reform.