We expected continued robust GDP growth in the second quarter, but 5.7% yoy (1.3% qoq swda) was above expectations. As inflation has picked up, GDP nominal growth accelerated to 10.2% yoy.
Statistics Estonia revised up GDP levels and growth rates of the last four years (2013-2016), whereas GDP growth in 2016 was revised to 2.1% yoy (from 1.6%).
Productivity growth has improved considerably
Fast economic growth, whereas the number of employed and worked hours hasn't changed substantially, has accelerated growth of labour productivity. At the same time, increase of labour costs in business sector has stabilised. This combination has enabled enterprises to raise their profits (up by 20% yoy in 1H) and improved their ability to invest.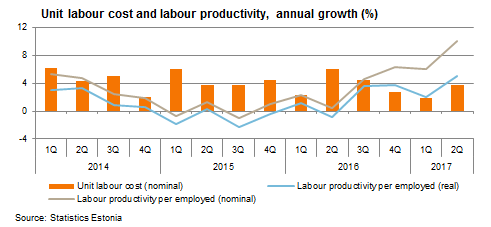 Business and public sector investment growth is very robust
Gross fixed capital formation increased 18% in real terms, whereas non-financial sector invested 21% and government sector even 47% more than a year ago. Government sector increased its investments primarily in buildings and structures, followed by transport equipment. This has contributed strongly to the growth in construction sector, which contributed the most to the GDP growth in 2Q. We expect that government sector will use gradually more EU funds for its investments and that the contribution of its gross fixed capital formation to the economic activity will remain robust at least in 2017-2018. Industrial sector confidence has rised to the highest level of the last 6 years and capacity utilisation is already above its long-term average – therefore we expect that improved outlook for demand brings about the need to invest more.
Mobile equipment behind the deceleration of export growth
Despite strong foreign demand, export growth decelerated to 1% yoy in real terms, whereas export of goods decreased even slightly. Mobile equipment was primarily behind it. Weak result in export of goods limited the growth of manufacturing sector's value added. We expect that the decrease in export of mobile equipment will continue at least in the coming months and will have strongly negative impact on Estonia's export of goods' total picture (the share of mobile equipment is ca 10% of total export of goods). However, export orders of other products are increasing and enterprises have become even more optimistic about export outlook of their production.
Private consumption has slowed as expected
Private consumption increased 2% in real terms in 2Q, but has decelerated to only 1.5% in 1H (4.3% in 2016). The major contribution comes from less consumption of alcoholic beverages and tobacco, which has been going on for a longer time. We expect that private consumption slows this year, despite better consumer confidence as real growth of net wages decelerates. In 2018, wage-earners' labour income will jump again, due to a substantial increase in their nontaxable income. This is expected to accelerate the growth of private consumption again.
Estonian economic outlook is good
Improved foreign demand will contribute to the economic growth during the next few years and investment growth is expected to remain strong. After a slowdown this year, growth of private consumption is expected to accelerate again next year. As GDP has increased already 5.2% in real terms in 1H this year, we are considering to revise up our GDP forecast for 2017 (recently published 3.5%).