The labour market remained tight.
The unemployment rate increased due to a reform.
In the second quarter of 2017, the unemployment rate was 7.0%, the employment rate 66.9% and the labour force participation rate 72% in Estonia. The labour force participation rate reached its highest level in 20 years. The participation rate is on the rise due to the tight labour market and the work ability reform that motivates people with disabilities to look for a job.
The rate of job vacancies, i.e., the share of job vacancies in the total number of jobs, increased to 2.0% in the first quarter. A shortage of labour is the most important factor restricting business for a quarter of manufacturing and service companies and for a half of construction companies. Therefore, wage pressures will persist.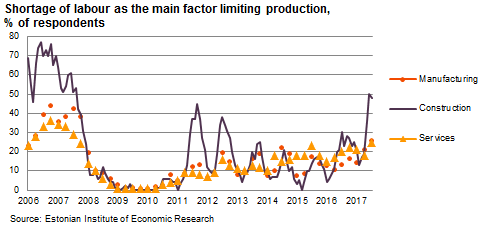 Employment remained around the same level as last year (-0.5%, over the year) in the second quarter. The number of employees decreased in the public sector and agriculture, while remained at last year's level in the manufacturing industry. We expect employment to increase again in the second half of this year as demand has strengthened in the export and domestic markets.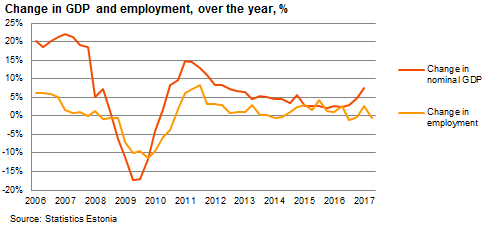 The unemployment rate grew as expected (7.0% in the second quarter). The registered unemployment rate of 4.7% was also higher than last year. The work ability reform gradually moves the disabled from the inactive into the unemployed category in labour statistics. At the same time, the number of the unemployed not affected by the reform has decreased.