Statistics Estonia revised up to 1.3% its second estimate of the third quarter yoy GDP real growth in Estonia (flash estimate was 1.1%). Compared to the previous quarter, GDP grew by 0.2% (swda). Economic growth has decelerated a bit this year – during the first three quarters, Estonian economy has grown 1.2% yoy (1.4% in 2015).
Export growth has accelerated
Export growth of goods and services accelerated to 5.6% yoy in the 3Q (export of goods 5%, services 7%). The main driver of the growth was exports of mobile equipment and electrical equipment. Despite of the expected slowdown of economic growth of several major export markets for Estonia (Sweden, Germany and UK), we expect that average import demand of our major trade partners will continue to improve in 2017 offering more export possibilities for Estonian enterprises
Private consumption grew 3.9% yoy in 3Q
Robust real growth of wages and improving consumer confidence has contributed to the private consumption. The growth of private consumption has decelerated this year a bit. The major negative impact comes from the decreased consumption of alcoholic beverages and tobacco products. We expect that next year real growth of net wages will decelerate and this can restrain the growth of retail trade (the growth of retail trade has already slowed).
Investments decreased
Despite of the improved sentiment in industrial, construction and service sectors, accelerated growth of enterprises' credit stock and gradually increasing capacity utilisation, corporations' sector investments decreased -16% primarily due to the less investments in buildings and structures and in equipment and machinery. Government investments decreased, as well. In total, gross fixed capital formation decreased 8% in 3Q yoy. We expect that total investments will improve next year, primarily with the stronger contribution of the government sector.
Change in inventories had the strongest negative contribution to the real growth of GDP
Although, the share of inventories was positive (1.3%) in nominal GDP, the figure was substantially smaller than last year and therefore, had strongly negative contribution the real growth of GDP (-3.6 pp).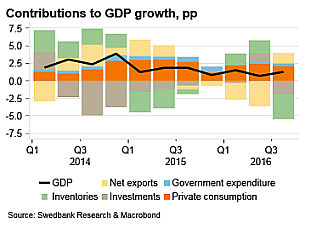 Transport, energy and domestic trade sectors contributed the most to the GDP growth
Transport sector value added declined steadily since the beginning of 2013. In the second quarter this year, value added in this sector started to grow contributed primarily by the increasing value added in land transport and slow down of the decrease in value added in activities supporting transport and storage (e.g. transit trade services). Despite the accelerated growth of exports, value added in manufacturing sector remained roughly flat compared to the same quarter of 2015.
According to our forecast, GDP grows 1.3% in 2016, but the growth is expected to accelerate to 2.4% in 2017 primarily with the contribution of stronger investments and exports.