In October, consumer prices increased by 7.0%, over the year, in Estonia.
Around half of the increase in prices came from more expensive energy.
Wages and pensions have risen as much as prices so far.
Higher prices have not yet discouraged households – consumption remains very strong.
Annual inflation reached 7.0% in October, over the year, in Estonia. Over the month, prices decreased by 0.2% due to the government's decision to cover part of households' electricity bills which lowered consumer price index by 0.4 percentage points. Inflation was previously as rapid 13 years ago, before the 2008-2009 crisis.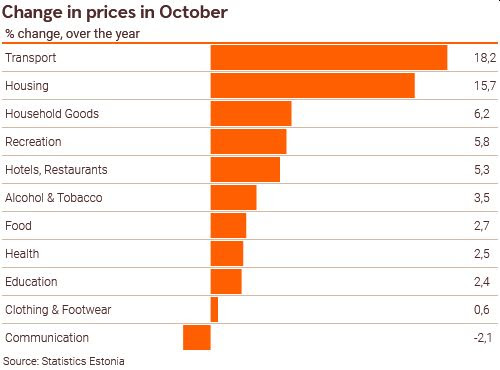 Inflation may accelerate further in the coming months, as the rise in the prices of different energy products has not yet reached the price index. In 2021, prices are expected to rise by around 4 percent, as inflation was slower in the first half of the year. Price increases should moderate in spring when energy prices are expected to ease in Europe after the heating season. In 2022, inflation should amount to 3.6%, close to the price increases we saw in 2017 and 2018. Inflation decelerates next year due to energy prices coming down from their peaks. At the same time, the growth in food and rental prices should accelerate.
Inflation is driven by rising energy prices
Around half of the increase in prices came from energy, especially more expensive electricity and motor fuels. Electricity prices rose by 41 percent in a year. The stock price of electricity declined in October, compared to September, as the weather has become more favourable for electricity production. Gas and oil prices have also risen significantly. The prices of motor fuels increased by a third in a year.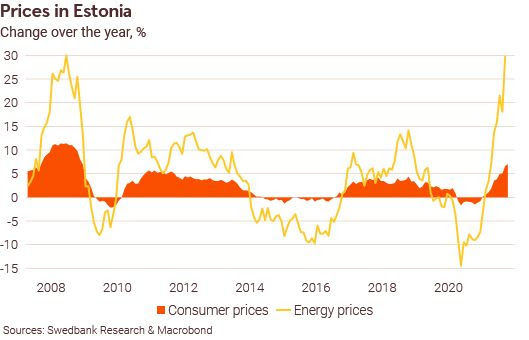 Incomes have grown as much as prices
Wages and pensions have risen as much as prices so far. Swedbank's clients' average net wage grew by 6.5% in the third quarter, over the year. The average pension was 6.1% higher than last year in the second quarter. Households' assessment of their financial situation remains very favourable, and consumption is still very strong. Retail sales' volumes grew by 17%, over the year, in September. Card transaction volumes of the three biggest banks in Estonia indicate strong consumption to have continued in October. However, we expect consumption to grow less rapidly in the coming months because of the spread of the virus, new restrictions, and the spending of the second-pillar pension savings fading over time.