Annual inflation reached 8.8% in November.
The prices of energy and food contributed the most.
Price growth is likely to accelerate further in December. The rise in prices is expected to decelerate next spring.
Inflation picked up as expected. Inflation reached 8.8% in November, over the year, and 1.8%, over the previous month. Inflation accelerated due to higher energy and food prices.
Price increases are likely to strengthen further in December. Inflation should decelerate next spring when demand for energy is expected to decrease at the end of the heating season.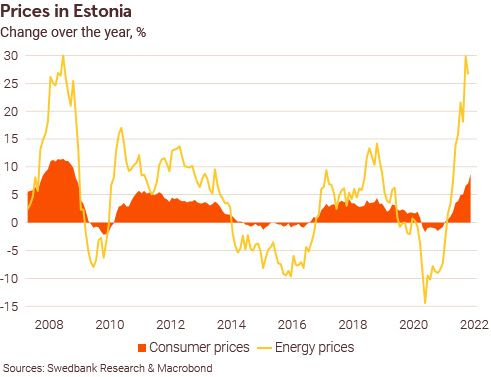 Prices are being pushed up by rising energy prices
Almost half of the 8.8% price growth came from higher energy prices. The price of electricity increased by half in a year. The stock price of electricity was almost three times higher than last year. The maintenance of several electricity production units and cold weather took electricity prices to new heights in early December. In addition, gas and other fuel prices rose. Energy prices will remain elevated until the spring, as demand for energy is strong, while supply is limited.
Rising production costs pushed up food prices. Food prices have reached the highest level in the last ten years in global markets. This is due to strong demand and declining inventories.
Prices grow more than incomes
A rapid rise in prices reduces people's real purchasing power. In recent months, the average net wage of Swedbank's customers has grown less than prices, by 5-6 percent compared to a year ago. The average pension increased by 6 percent in the third quarter. Families' assessment of their financial situation has deteriorated in recent months. At the same time, consumption is still strong, according to retail trade and banks' payments' data.
The cost of consumer baskets has increased evenly across different income levels, around 9% in a year. Poorer families suffer most from rising electricity and heating prices, while wealthier households are affected by higher motor fuel prices. Nevertheless, the rapid rise in prices is hitting lower-income families harder. Wage growth has been rather modest in the lower end of the wage spectrum this year.