Employment rose rapidly but only among the part-time workers
The unemployment rate decreased more than expected
The shortage of labour has reached the levels of last economic boom
Employment rose rapidly but only among the part-time workers
The number of the employed rose significantly, by 2.0%, or by 13,000 persons, over the year, in Estonia. Employment rose among the part-timers in the services' sector and the manufacturing. According to the Estonian Tax and Customs Board, who has more detailed data on employment by sectors, employment increased the most in the construction sector.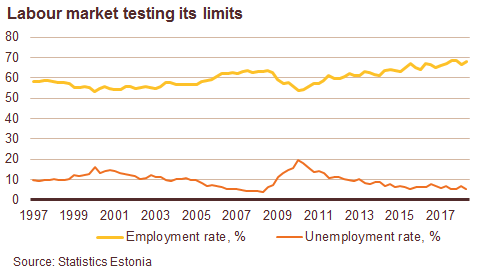 The unemployment rate decreased more than expected
Employment rose due to lower unemployment, the number of the inactive remained at last year's level. The number of the unemployed decreased by the same amount as was the increase in the employment, 13,000 persons. Unemployment shrank among the short-term unemployed (up to 6 months). The unemployment rate (5.1% in Q2) would have been even lower without the ongoing work ability reform (that motivates people with a disability to look for a job). Around a third of the registered unemployed were people with decreased working ability in July.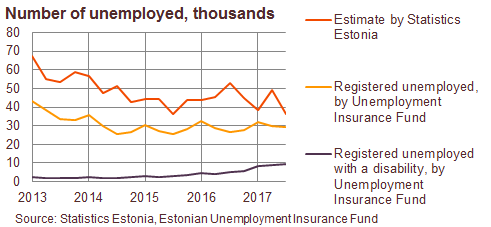 The shortage of labour has reached the levels of last economic boom
A shortage of labour was the most important factor restricting business for 30% of manufacturing, 36% of service companies and for 61% of construction companies in July. While the labour market indicators look more and more like during the last economic boom, the number of the working-age people is much smaller: -70,000 compared with 2006-2007.
The shortage of labour keeps wage growth rapid
Employees feel more and more secure in the labour market. The number of employees who have left their jobs on their own initiative is growing and the rate of job vacancies is on the rise. Therefore, wage pressures will persist. Tax data show that gross wage growth remained strong in the second quarter, close to 6%, year-on-year.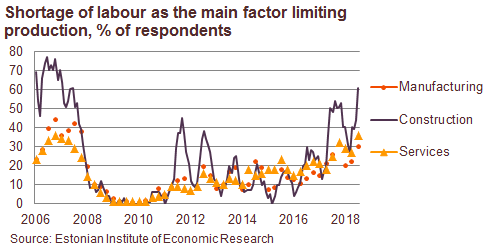 Employment should continue growing in the second half of the year. Companies plan to increase the number of workers in the following months, according to a survey by the Estonian Institute of Economic Research. As demand for labour grows, but the supply of labour is limited, at least short-term, the number of job vacancies should grow. It seems that the negative impact of the work ability reform on the unemployment rate will be smaller than expected and the unemployment rate will be smaller in 2018 than in 2017.