In the third quarter, Estonian GDP growth accelerated to 4.2% yoy in real terms. Compared to the previous quarter GDP increased 0.4%, seasonally and working day corrected. In nominal terms, GDP increased 9.5% in the third quarter and 8.5% ytd.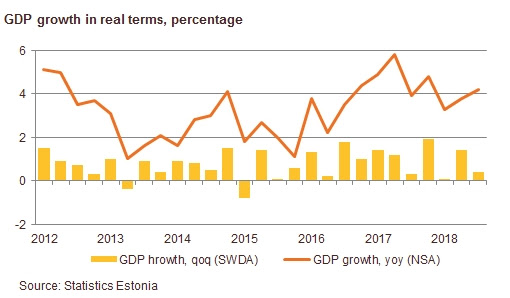 Economic growth is relatively broad-based, but is dominated by construction
Economic growth is broad-based, but is dominated by construction – in the third quarter, 1/3 of the GDP growth came from this economic activity. The second largest contributions came equally from manufacturing and professional service activities. Manufacturing value added increased robustly despite the slow-down of export of goods. Due to the strong domestic demand, manufacturing has increased its sales on the domestic market considerably faster than its exports.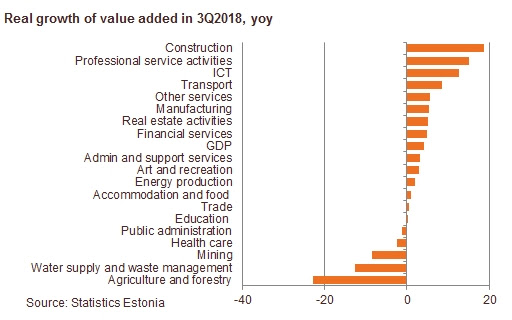 Economy is in good balance
Besides strong demand of intermediate goods and services in the domestic production, private consumption has accelerated this year due to the robust wage growth and income tax reform. In the third quarter household consumption increased 4% in real terms. Investments increased 4%, as well, contributed primarily by improved investments of non-financial corporations, whereas government sector investment growth decelerated. Robust domestic demand has accelerated the growth of imports to 6%, whereas exports grew only 1% yoy. Trade balance is still positive, but it has worsened compared to the level in 2017. Domestic demand is strong, but its level is still less than GDP value, which helps to keep Estonian current account balance positive. Although government investment growth has decelerated in this year, as expected, its share in GDP is expected to remain high in the coming few years – therefore, Estonian government investments will continue to stimulate economic growth relatively strongly. Estonian government investments' share in GDP is the highest among the EU member states.
Excessive growth of labour costs deteriorates price competitiveness
Due to the expected weakening of foreign demand, whereas domestic demand remains strong, contribution of net exports to the GDP growth is at risk. In addition, excessive growth of labour costs deteriorates price competitiveness of Estonian enterprises. The growth of unit labour cost has accelerated during the last two years and in the third quarter the rate increased with the fastest pace of the last ten years.
GDP growth is expected to decelerate next year
The current Swedbank forecast for the GDP growth in Estonia in 2018 is 3.5% yoy. GDP has expanded 3.8% ytd in real terms. The GDP growth in the third quarter was somewhat above our expectations, but we take it as a preliminary, since Statistical Office has revised its quarterly figures considerably. We will review our forecast in the next forecast due in the beginning of next year. We expect that GDP growth decelerates to 3.2% in 2019.