In 3Q2017 Estonian GDP expanded 4.2% yoy and 0.3% qoq (swad) in real terms. In nominal terms, GDP increased by 8.9% yoy. During the first three quarters, GDP has increased by 4.8% yoy in real terms.
The major contribution to the growth comes from the domestic market
Although the GDP growth was broad based, construction sector's contribution was roughly ¼. The growth was supported by robust public sector investments in buildings and structures. In addition to construction sector, ICT, mining, manufacturing and professional and technical activities contributed strongly to the economic growth. The major contribution to the growth came from the economic activities serving the domestic market. Economic sentiment has improved this year, the sentiment index is above the long term average, but the improvement trend has stabilised in the 2H.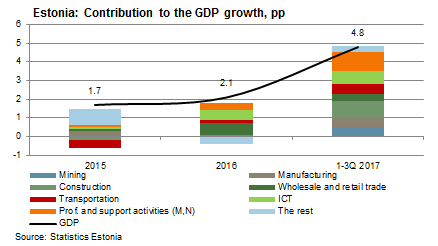 Despite strong foreign demand, export growth has slowed in 2017
Export growth continued to slow down in 3Q2017, ie in real terms, it even decreased marginally. Steep decline in export of mobile equipment is behind the weak total export data. Excluding this product group, export growth is relatively strong. We expect that export decline of mobile equipment will continue at least in the short term, as new orders of mobile equipment have decreased during the last year. However, the decrease of exports of mobile equipment should fade due to the base effect reasons.
Growth of domestic demand was the strongest of the last five years
Robust growth of domestic demand was supported by all major transactions. Household consumption increased 3.5% and gross fixed capital formation (investments) 13%. Increased inventories contributed to the GDP growth, as well. Despite the increase of foreign tourists, their final consumption in Estonia decreased. The planned increase of minimum level of income tax exemption in 2018 will improve purchase power of the majority of Estonian population and therefore is expected to stimulate private consumption.
Non-financial corporations' investments increased roughly by a tenth and government investments by a quarter. Improved demand and decreasing share of spare capital increase the need for investments. Government has increased its investments in buildings and structures. We expect that government will continue to expand its investments with the contribution of EU structural funds.
Labour productivity has improved in this year
As labour productivity has grown faster than labour costs, nominal growth of unit labour cost (ULC) has decelerated a bit. Although our price competitiveness is still worsening, the trend has slowed. According to the industrial enterprises' evaluations, their competitiveness on the foreign markets has improved, but their competitiveness on the domestic market has worsened.
Estonian economy is well balanced
Households' financial situation is good – their budget position is relatively strong and saving rate (per disposable income) is close to EU and euro area average. Despite some negative risks of the planned tax receipts, public finances are strong, as well. Current account has been in surplus already for a long time and according to the preliminary calculations, it was 4% of GDP in 3Q2017.
Outlook for the economic growth in Estonia remains robust at least in the short term
Estonian economy has expanded 4.8% in real terms during the first three quarters. According to our forecast, GDP grows 4.2% in this year and will slow to 3.5% in 2018. Both domestic and foreign demand is expected to remain strong in 2018.