In the second quarter of 2019, Estonian GDP growth slowed to 3.6% y/y in real terms and to 7.9% y/y in nominal terms. In the first half of this year, GDP growth was 4.2% in real terms. Although, the growth moderated from the last year's heights, it was still strong despite weakened foreign demand. Seasonally and working day adjusted GDP grew by 0.4% q/q.
Statistics Estonia revised the national accounts time series for 1995–2019Q1. According to the revised data, in the first quarter of this year, real GDP growth was 0.5 pp higher – 5.0%. As a result of the revision, GDP for 2017 was revised up by 0.9 pp to 5.7% and for 2018 – by 0.9 pp to 4.8%.
Economic growth was dominated by ICT sector
In the second quarter of 2019, the main contribution to GDP growth came from ICT – almost half of the growth came from this sector. Higher contribution came also from professional and technical activities, wholesale and retail trade, and manufacturing. Manufacturing, which was the main contributor in the first quarter, contributed less in the second quarter. However, slower growth of manufacturing sector was expected due to weakened foreign demand and faltering industrial confidence. Construction sector, that was the main contributor to the economic growth in previous years, did not contribute in the first half of this year. Negative impact to the growth came mainly from energy sector.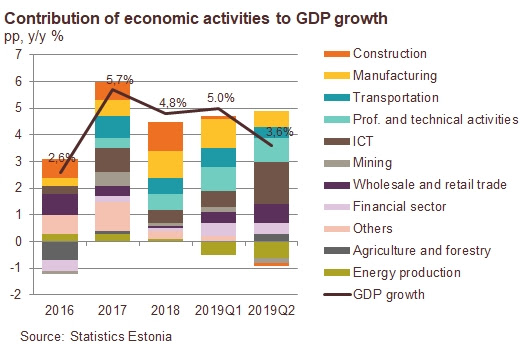 Domestic demand is still strong
In the second quarter, the growth of domestic demand decelerated somewhat, but was still very strong – 6%. The main contribution came from investments, which increased by 25%. Investments of business sector and households' increased, while government investments decreased. The growth of private consumption has slowed and was 1% in the second quarter, which was affected by last year's base effect. However, private consumption should be supported by strong wage growth, low interest rates, moderate inflation and high consumer confidence going forward.
The growth of foreign demand has slid from the peak. However, in the first half of the year, the growth of export of goods was still strong – 7%. Total export growth was 4% in the first half of the year. We expect that weakened foreign demand should offer less export opportunities in the second half of the year.
Economic growth in Estonia is expected to slow
According to our latest Swedbank Economic Outlook published in August, economic growth in Estonia is expected to decelerate in the second half of this year, primarily due to unfavourable foreign demand. We also expect slower economic growth in the next two years. As our August forecast was made before the revision of the GDP time series, we shall revise our forecast in our next economic outlook in autumn.