Prices increased by 12.2%, over the year, in December. Inflation reached 12% last time in the 1990s.
More than half of the price increase came from higher energy prices, mainly electricity.
The rise in consumer prices is expected to accelerate this year.
In December, prices rose by 12.2% year-on-year and 3.1% month-on-month. More than half of the 12% increase came from higher energy prices, mainly electricity.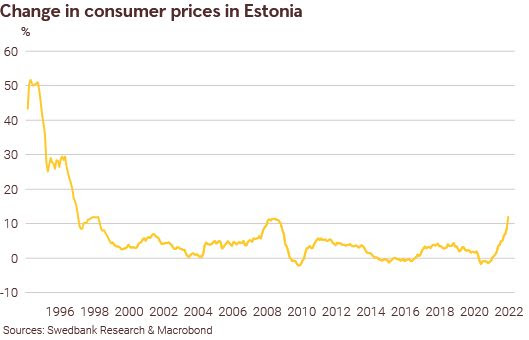 Electricity and gas prices rose by more than 2 times. Energy prices in Europe will remain elevated at least until the end of the heating season. Gas futures show that gas prices will remain at the current extremely high levels throughout this year. Gas reserves in Europe are at very low levels. The prices of motor fuels at Estonian gas stations increased by more than a quarter in the last month of the previous year. Oil prices will remain high in the coming months as OPEC+ has not been able to increase its oil exports as much as agreed. The unrest in Kazakhstan is further straining the oil market.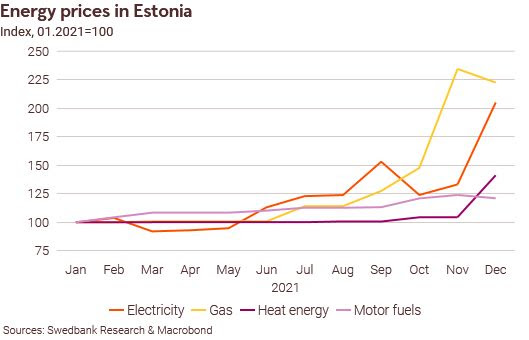 More expensive energy will gradually lift the prices of different goods and services. Although the share of energy in production costs is generally small, strong demand and supply shortages allow prices to rise more than higher energy costs would otherwise require.
Food prices rose by 6.1% year-on-year in December. The rise in food prices may accelerate further in the coming months as input prices have risen sharply in the food industry.
Prices will grow more than incomes in the coming
The rapid rise in prices is reducing people's real purchasing power. The net wage of Swedbank's customers has increased by 5-6 percent year-on-year in recent months. Families' assessment of their financial situation has deteriorated. At the same time, consumption continued to grow strongly in November-December.
Last year, prices rose by 4.7% and net wages by an average of 6 percent. This year, Swedbank forecasts a 5-6 percent increase in both prices and net wages. In addition to expensive energy, inflation is affected by rising food prices.